by Roy Curry
I have a personal link to poinsettia plants.
"Look at that poor poinsettia plant thrown in the gutter, its roots exposed and its leaves all drooping." I chuckled hearing Sue's concern.  I do not usually share her sensitivity to the feelings of plants and animals, but I am saddened when I see post-Christmas poinsettias withering outside in the final day's wintry days of December in Davis.  I grew up with a very different image of poinsettias in December.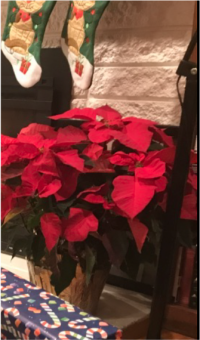 It is December 1961 and my high school friends and I are enjoying an end-of-school year BBQ in the backyard of our Brisbane, Australia home. The temperature is close to 90 degrees and summer holidays stretch way off into January.  Behind the brick BBQ stands a row of poinsettia bushes, some as tall as 10 feet. They grow easily outdoors in this subtropical climate. The trees have mainly green leaves in summer but a few branches maintain the bright red clusters that developed in the shorter days of the past winter, and that, in my ignorance of the specialized leaves called bracts, I am happy to call flowers.
Some say that these poinsettia colors represent the life and death of Jesus. Others, more to my liking, point to older traditions where the green leaves and red berries are parts of ancient solstice festivals.
Fast forward 61 years and it is Christmas in Davis, 2019, after the walk with Sue. I sit by the fire in our living room. It is 46 degrees outside and a Costco potted poinsettia is close by, next to the Christmas tree. This plant looks very different from its Brisbane cousins. It is less than 2 feet tall, with a dense canopy of broad red leaves that would put any summer poinsettia in Brisbane to shame. I will try to keep it alive and thriving for as long as possible.
I can look at this potted plant in very different ways.  I am delighted to have it as a living indoor plant that adds extra color and brightness to our decorations at a time when our Davis garden is quite bare. Its red canopy atop and the circles of deep green leaves excel in their role of displaying the traditional colors of Christmas: green and red. Some say that these poinsettia colors represent the life and death of Jesus. Others, more to my liking, point to older traditions where the green leaves and red berries are parts of ancient solstice festivals.
But I can also see this plant as one of over 70 million other potted poinsettias mass produced in energy wasting hot houses by underpaid migrant laborers and destined to be yet another disposable item placed in the recycling bin after the 12 days of Christmas.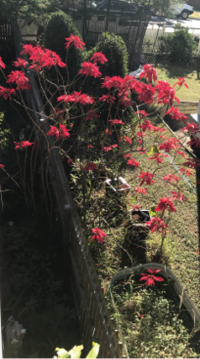 So, my mind jumps back to the Brisbane back yard: the poinsettia bushes that were near our BBQ could still be growing there. They would look very much like the bushy trees that the botanist Poinsettia discovered growing in the mountains of Mexico 180 years ago, and which are known to be the ancestors of all the poinsettias grown in both the US and Australia. Poinsettias were part of every relative's garden I visited as a child.  Few knew or cared about these poinsettias' foreign origins, or the difference between its flowers and its bracts. Brisbane's semi-official flower is neither a native nor a flower.
The garden poinsettia of my childhood never achieved the celebrity status of the specially produced plants that I enjoy in the American holiday season.  But as a long-lived and well-loved part of many gardens, they did not suffer the indignity of only short term and disposable beauty. 
"I've been thinking about the poinsettia we saw discarded on our walk after Christmas" I confess to Sue. "You helped me recognize how much they link my early years in Brisbane with home and family life in Davis." I add "It is a link at highlights similarities as well as contrasts."
My thoughts later turn to those Mexican migrant workers whose labor is an essential part of the commercial operation to prepare the millions of potted poinsettias that decorate our Christmas living rooms.
"Suppose some of their families come from areas very close to the native poinsettia trees of their home country" I wonder.  Would a botanical thread like the one that I recognize bring them comfort during their work on the assembly line production of Poinsettias for Christmas?   Or maybe any such connection can only bring sorrow.
Perhaps the contrast of red and the green always carried a tension: life and death, stop and go, short days and long days, joy or sorrow, a summer BBQ or a cozy fireside memory.