by Roy Curry
I remember the first rose that I planted with my mother's help in a small garden plot next to the farmhouse as I was growing up in southern Queensland. It was Red Radiance, with deep red buds that opened into a rounded ball of petals and a delightful perfume. I was about 10 years old. The moment when the first blooms opened and I knelt to smell was one of my first experiences of beauty. I know that because it created in me a desire for more.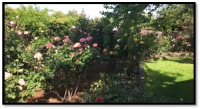 I was able to indulge my passion for growing roses a few years later when we moved from the farm to our new home in Brisbane. "Is the soil good for roses?"
The answer to my question was a very definite "Yes" from a neighbor who ran a small nursery nearby. "And your large corner lot has an ideal location," he said. I was definitely his youngest customer, and he became a mentor. I learned how to prepare the ground before planting new bare root roses. I was ready to grow more roses.
The first rose my mother and I chose in our new home garden was another Red Radiance. My favorite from the farmhouse formed a link between our gardens. The second was the polyantha rose, China Doll, which had large bunches of small pink blooms. We had carried bunches of this rose from the farm each week when we visited my father in the veterans' hospital in Brisbane. He was treated there for several months before he passed away. My father would not allow the hospital staff to remove these roses, even when they had faded. China Doll in the Brisbane garden meant he was never forgotten.
I did not have a rose mentor when I first moved to Davis. The North American Rose Society Manual became my guide.
Soon the garden also had the vigorous yellow rose, Buccaneer, flowering all across one corner. Queen Elizabeth was another success, consistent with its rating score of 9 out of 10 by the Australian National Rose Society. Ranking was based on vigorous growth, resistance to disease, and color. "You can't go wrong if you choose the high ranked roses," my mentor advised. But I was disappointed that "fancy" new roses produced by novel cross breeding methods to give a wider range of oranges and mauves were too novel to have reached such mature standing in the rather conservative Australian Rose Society Manual. I stayed mainly with the strategy that "could not go wrong" for the Brisbane garden but I knew there was far more to know, and to grow, in my future with roses.
Rose growing was interrupted by the years of graduate school in Melbourne, post-doctoral research in Oxford, and only a brief period back in Australia before we settled in Davis in 1977. We planted pink Queen Elizabeth and yellow Buccaneer and they began to thrive during the next summer. Once again roses did more than help start a garden. They were bridges back to homes in Australia. Today, like their British namesake, those Queen Elizabeths planted 42 years ago show no sign of retiring and still are part of that bridge. But after years of struggle, yellow Buccaneer could no longer survive the Davis summers, a particularly Davis form of burnout.
When I last counted I have 55 rose bushes, mostly Grandifolia and Hybrid Tea varities. Roses grow well in the heavy clay soil in our area of town. Every March I watch as bright green new stems on the recently pruned bushes mature to form hundreds of buds. I am like a father-to-be awaiting the arrival of Mardi Gras'explosion of an orange-pink canopy; of Climbing America outdoing herself by besting her record of over 150 flowers on a single bush. The display continues until at least Mother's Day. Then a late Spring wind scatters petals and a new cycle begins.
"Cut the faded bloom stems back to the first 5-leaf junction," I remind anyone who helps me during the first round of dead-heading or removing the spent blooms. Each old bud gives rise to a head of  2, 3 even 5 new flowers. Our lavish display goes on until the heat of August and mid-September declares "half time" in our annual Rose Parade
After a light pruning in September, the roses respond to the coming of Fall with an encore performance. The buds are smaller, the colors more subdued, but there are roses in the garden, in a vase on the dining table, on the breakfast tray, and as gifts to friends and neighbors until well after Thanksgiving.
From my very first  experience with Red Radiance, roses have delighted and inspired me to seek the beauty that surrounds me.
I did not have a rose mentor when I first moved to Davis. The North American Rose Society Manual became my guide. Newly developed roses were rated much more rapidly than in Australia and I found new favorites: the yellow-pink Peace, the perfumed and multiple reds of Chrysler Imperial, and the bi-color and perfume of Double Delight. Then we discovered the UCDavis rose garden and the annual "rose days" when the 8-acre rose garden near the airport is open. New rose varieties donated by California rose breeders were available for sale.
Sue's preferences began to guide selections. With the recommendations of the UCDavis Center for Urban Horticulture and Sue's love of the orange-pink varieties, my desire to explore "fancy" crossbred varieties was renewed. So the gaiety of Mardi Gras, the variegated clusters of Arizona Sunrise and the creamy pink of Cherry Parfait greatly expanded our garden palette.
From my very first  experience with Red Radiance, roses have delighted and inspired me to seek the beauty that surrounds me. This year the first rose buds opened soon after shelter-at-home from the corona virus pandemic began. As weeks passed, the garden display has neared its peak  while those early flowers have begun to fade.  I have never appreciated more how this rose garden helps me  link past and present, to express love and loss, and glory in the beauty of nature amid such human suffering.