Student Spotlight: Nathan Trauernicht
Nathan Trauernicht is an experienced leader who understands the importance of innovation when it comes to managing and inspiring your team. As the chief of the UC Davis Fire Department, Trauernicht provides overall leadership and direction to a department serving a population of more than 40,000. He is also a graduate of the UC Davis Executive Leadership Program.
Why did you choose the Executive Leadership Program?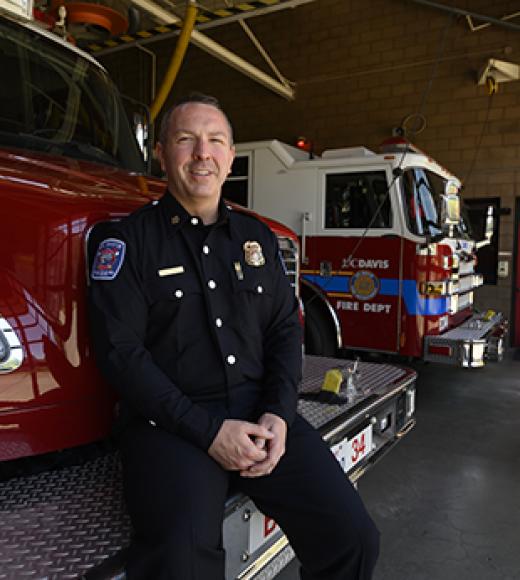 I began at the UC Davis Fire Department in 2008 as the assistant chief of operations and training. The fire chief at the time was preparing for retirement, and knowing that I would soon be stepping into that role, he recommended the Executive Leadership Program as a good opportunity to network and get exposed to leadership outside the context of the fire service.
What goals did you have going into the program?
My main goal was to meet new people who thought of the problems I was facing through a different lens. I'd grown up and worked in this industry since I was 14, and I always looked at things one way, but there's so much to gain from people outside the fire service, who do different work and approach problems differently.
How did this program help you accomplish that goal?
The program helped me become a more innovative and out-of-the-box thinker. Because of the diversity of people involved in the program, I learned that some of the fundamental challenges I was grappling with were shared by leaders across industries. I learned great tools and tips for navigating challenges outside my comfort zone. Now when I encounter problems, I look at it from the perspective of how someone from another industry would approach and solve it.
What did you find most valuable about the program?
Networking. The program is a great mix of new and experienced leaders from various industries. As leaders, we tend to think that every problem we experience is unique to the scope of our work, but the reality is that the challenges of leadership—of inspiring and managing people—are very similar. It was fascinating to hear from people who work for nonprofits or fortune 500 companies or other universities grapple with some of the same fundamental challenges I was dealing with. It's an immersive program that helps you improve your leadership skills and build a professional network of peers who you can turn to for advice.
How has the program impacted your career?
Learn more about the Executive Leadership Program
Being a part of the Executive Leadership Program at the beginning of my tenure as fire chief helped me understand how the Fire Department's mission could be intertwined with that of a top-tier research institution. I realized we could be more than just an emergency response department. It's about meeting the needs of the community before emergency response. The program taught me the importance of going above and beyond in every interaction. It inspired me to reimagine the fire station, not just as a fixture you walk by, but as a community destination that people come to and interact with, thereby increasing trust between the community and our department and inspiring a more diverse workforce.
Would you recommend this program?
I do and I did. I've sent my EMS captain through the program. He is tremendously talented and after leaving the program has generated some of the most noteworthy and recognized programs in our department. I use him as an example because it's like the ultimate manifestation of what the program is supposed to do. You see potential in someone, you recommend the program to them and they take the program and then start looking for potential in others. I'm really excited that I could participate and continue to refer people to the program and see the great work they've gone on to do.
Primary Category
Tags