UC Davis Tapping Potential Scholarship Spotlight: Lana Svitankova
Lana Svitankova is a freelance beer writer, translator and Ukraine's first ever Certified Cicerone. Recently, much of her writing has been focused on Ukraine—including pickle-style beers and Ukrainian Golden Ale—to help keep the conversation about Ukraine top of mind. At the heart of what she does, Svitankova is pushing the boundaries of emerging beer culture in her country and creating more space in the industry for female beer lovers and professionals. As a winner of the 2022 UC Davis Tapping Potential Scholarship for the online Beer Quality Series at UC Davis Continuing and Professional Education, Svitankova will be able to make a bigger impact in the brewing industry and continue to inspire others to do the same.
My goal is to be living proof that females can be knowledgeable about beer."
How did your journey in the brewing industry begin?
My beer journey began around 2008 and blossomed into a fun and exciting hobby and self-educational voyage. When I landed my first beer job in 2016 as a spokesperson for a brewery, the filming crew declined my offer to answer their questions because they said they needed someone with competence. That was their answer based on my gender, having no knowledge whatsoever about my competence. This prompted me to go for any certification available. I soon became a certified beer judge through the Beer Judge Certification Program (BJCP) and the first Certified Cicerone in Ukraine, so I can answer "that's my level of competence."
The experience made me painfully aware of the overall discriminatory attitude toward females in beer, so I've kept active in the local and international scene, in an attempt to prove that females can be beer experts if they are allowed to emerge into the spotlight. Winning the British Guild of Beer Writers Award for Best Citizen Communicator in 2019 helped me to become more confident in my writing. I contribute to Good Beer Hunting and a few other beer media in English and continue translating into Ukrainian (three books released, two awaiting publishing). Also, I am an international beer judge, an educator and a member of the Pink Boots Society. Currently, my biggest goal is championing the recognition of the Ukrainian Golden Ale as a local style and being a proponent of the "beer is for all" attitude.
What motivated you to apply for the UC Davis Tapping Potential Scholarship?
I was motivated by Mariana da Silva Schneider and her example! I was initially reluctant because my first thought was, 'What's the point in applying when there are so many other talented people around who totally deserve this opportunity?' But in the end, I decided to give it a go.
What are your brewing goals and how will this scholarship help you achieve them?
My goal is quite simple: to be living proof that females can be knowledgeable about beer. That expertise has nothing to do with gender, and the more open we are to this, the more visible and obvious it becomes. And every time I am asked what my credentials are, I will be able to add that I took the UC Davis Beer Quality Series.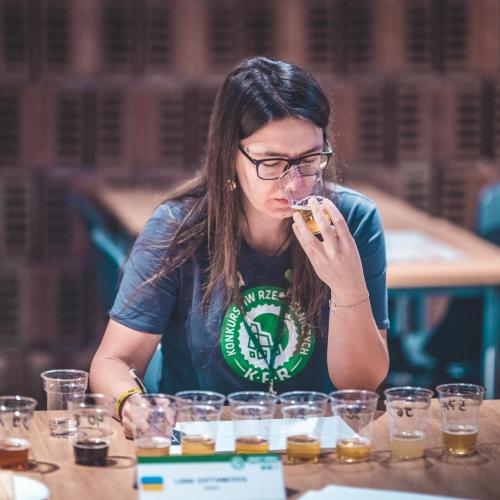 How will education and training from UC Davis help you make a bigger impact in the industry?
The outcome I expect to be the most powerful, is again, being an example. Inspiring others. It's like being a link in a chain. First Mariana got it and passed it to me. I hope to inspire others to attempt reaching the skies, believe in themselves, to overcome the impostor syndrome.
What has motivated you to overcome the challenges of not fitting the "brewing standard"?
I was lucky not to be openly ousted from the brewing industry, but the feeling of being undervalued and not being taken seriously was always lurking in the shadows. I don't know if it can be considered motivation, but my love for beer was pushing me forward all the time. At first, I didn't care and just plunged into the great unknown, but the deeper you venture into any industry, the more you become aware of all the inner workings and things kept under cover—the things people don't talk aloud about. I became overwhelmed by the desire to undo the knots of stereotyping, disassemble myths, at least when possible. I don't believe I will change the world, but at least I can change things when I encounter them on a personal level.
What advice would you give to someone who may not see themselves represented in the industry but would like to pursue a career in brewing?
Don't let yourself be discouraged. I know how difficult it can be, how comments and patronizing can hurt, and how draining a struggle to prove your expertise can feel. Keep enjoying the beer and the industry. It's your joy, and nobody has the right to deprive you of this. Seek out other people who are underrepresented because together you are more powerful, and what can be more reassuring than lifting each other up? Never stop learning, be it official or self-education. Knowledge can't be faked.
---
For more information on UC Davis Tapping Potential or how to support the campaign, contact Jonathan Hughes.
Primary Category
Tags