Back to School Days for Lifelong Learners!
Fall 2021 Registration Is Underway…
Registration for OLLI's fall courses begins Tuesday, September 7, 2021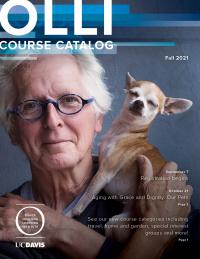 The OLLI fall catalog offers 35 enticing reasons to renew your OLLI membership and join your friends to discover new horizons and expand your world.
Five courses will be offered this fall in an in-person classroom:
If you've been waiting to get back to the invigorating setting of a traditional learning venue, we've partnered with Watermelon Music in Davis to secure a larger classroom to ensure your comfort for fall quarter. Register soon!
If you'd like a PRINT VERSION of the catalog, several Yolo County partners welcome you to drop in and get a copy:
Mary L. Stephens Davis Library -

315 E 14th St, Davis, CA 95616

Davis Senior Ctr. – 646 A St., Davis, CA 95616 –

open limited hours

Watermelon Music - 1970 Lake Blvd #1, Davis, CA 95616

Woodland Community & Senior Center - 2001 East St, Woodland, CA 95776
Courses begin Monday, October 4, 2021 via Zoom. Our first in-person course begins October 13, 2021.
Volunteers Needed!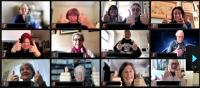 The OLLI team is observing precautions to ensure the health and safety of our members. Based on member feedback, the majority of our courses will continue in Zoom due to the evolving health conditions of COVID-19.
Our program needs to build a larger cadre of Zoom Co-pilots and classroom monitors.
If you'd like to help, please write to Operations Chair Gail Yokote via emailing at olli@ucdavis.edu.
For those who'd like to volunteer to support our In-Person courses, we'd be happy to share the campus Volunteer Guidelines and further details. Again, please contact OLLI staff at olli@ucdavis.edu.
Tags