Upcoming Winter Registration, Thanksgiving Photos and More
Winter Registration Begins December 14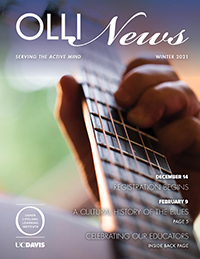 If you haven't seen the new OLLI catalog for Winter, be sure and download your copy today. Online registration begins December 14. You can also register by calling Student Services on December 14 at (530) 757-8777. Remember, staff is working from home and will need time to return your call.
Holiday Schedule
At Continuing and Professional Education, our offices will be offering reduced services starting Monday, December 21 and resuming full operations on Monday, January 4, 2021. You can still enroll in classes through our website, and our Student Services team will be available to provide support at (530) 757-8777 and cpeinfo@ucdavis.edu. View our full holiday schedule.
OLLI Celebrates our Treasured Community with a Special Thanksgiving
Among the things we give thanks for in this extraordinary COVID Thanksgiving is the OLLI community of members. We asked for your photos to document a Thanksgiving that none of us will forget – and members delivered! Among the remarkable images we received were the arrival of a new great-grandchild, eye-catching goodies and home decorations, festive and pesky turkeys and of course our lovable pet companions.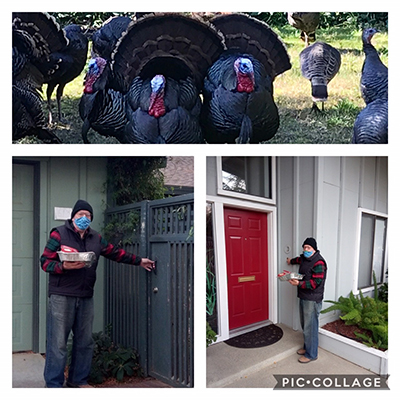 A particularly inspiring submission was provided by Jim Wright, who made Thanksgiving meals in advance and delivered them door to door to lucky friends and neighbors!
We want to thank members Jane Matteson, Phyllis Keilholtz, Robert Rooney, Alice Green, Celia Rabinowitz, Barbara Drushell, Jim Wright and Emilia Jankowski for sharing their photos and holiday with all of us.
Tags