Using the OLLI at UC Davis Enrollment Portal Online
As we move into summer, OLLI plans to continue offering special opportunities and classes via ZOOM to keep our members engaged in learning and connected to one another.
Using online enrollment will be the fastest way to make sure you're enrolled in upcoming OLLI offerings. Here's a quick primer on how to find information you may need if you're unfamiliar with online registration.
Finding Your Student User Name or Password
If you do not know your User Name and Password but you have taken a class with UC Davis Continuing and Professional Education, you are already in our system.
If you know the email address at which you receive emails from cpeinfo@ucdavis.edu or from olli@ucdavis.edu, you can check your account info by using the "Forgot User Name" and "Forgot Password" links on the Student Portal Log-in page.
To get your User Name or Password, click on the blue lettering shown below in this screen shot. An email will be sent to you with a link to reset your user name or your password or both, if necessary: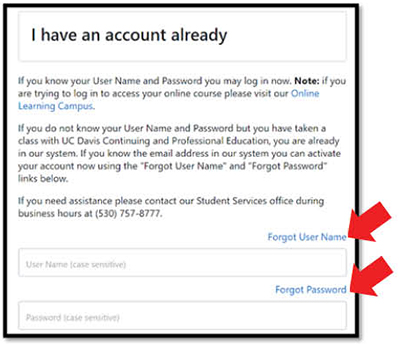 If you have further difficulty, call Student Services at (530) 757-8777 and leave a phone number where you can be reached on weekdays. Due to the volume of calls and COVID-19 measures, Student Services staff are continuing to work from home and response time to your voicemail messages may vary.
Tags