Your OLLI Winter 2021 Catalog is Now Available
Download Your Copy of the OLLI 2021 Winter Catalog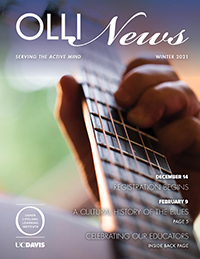 Our winter catalog of online courses is now available for download. 
The course catalog features an enticing selection new courses and the return of many favorites—all offered online via Zoom. Registration for courses begins December 14
Volunteers Needed—Become an OLLI Zoom Co-Pilot!
OLLI members achieve great things together! This quarter, we will have successfully conducted 94 class sessions via Zoom! So much of this success depends on our Zoom coordinators and co-pilots. We owe a tremendous debt of thanks to OLLI volunteer and board member Gail Yokote who has been closely involved in all the strategy, planning and training to keep us thriving via Zoom. But…winter is coming! We need three more Zoom co-pilot volunteers for winter classes. If you've been using Zoom for a while now, please consider this opportunity to learn a little more with training from our team and help others become more comfortable with Zoom, too. For details, contact the staff at olli@ucdavis.edu.
December Courses offer Holiday Cheer
Don't miss these upcoming courses starting this week:
Tuesdays: Dec. 1 and 8 from 10 a.m.-12 p.m.
Examine the life of Jane Austen during the British Regency Period when manners and customs held sway and figured prominently in her novels. It's a great way to get in the mood for the holidays. Register now
Wednesday: Dec. 2 from 10 a.m. - 12 p.m.
Larry Lobre will share some unique holiday music you probably haven't heard on the radio. Share your stories about the music you're listening to and the types of music you look forward to through the holidays. Register now
Register online or email us at OLLI@ucdavis.edu and we will ask Student Services to contact you to complete registration.
Tags