Great New Programs Coming Your Way this Week
Two new courses are now listed on open for enrollment on our registration page:
Join us on Wednesday, August 5, 2020 in welcoming Dr. Stephen Hoadley live from Auckland, New Zealand! His topic, Pandemics and their Influence on Geopolitics will review how,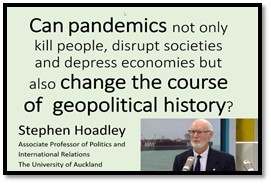 through history, upsurges of disease have compelled significant geopolitical shifts, as well as economic and social changes. Only in the last century we appeared to prevail over diseases such as smallpox, malaria and polio…but new ones keep attacking us! We will review some of the geopolitical consequences of past epidemics from the Roman Empire to the British Empire. The second half of the session will include the instructor's speculations regarding the current coronavirus and potential international political effects related to how President Trump and President Xi are managing it. To enroll, contact Student Services at (530) 757-8777 or enroll online.
Don't miss this week's Special Interest Discussion Groups! 
Register for this ongoing free series online. Zoom link details are provided in your enrollment confirmation email.
Additional courses now open for enrollment
Several new Summer courses are posted on our registration page:
Jul. 27-Aug.17 – Systemic Racism with Prof. John Liu

Aug. 1-29 - Guided Autobiography Workshop with Lisa Smith Youngs - waitlisted

Aug. 4- 25 - Cinema Chez Rene with Rene Viargues

Sept. 3 - Burning Man – a Photo Essay with Laurie Friedman

Sept. 9 - The 2020 Presidential Election: a Geopolitical Turning Point? with Prof. Steven Hoadley
Links for OLLI YouTube classes are included with summer memberships. Just look at these great titles!
Yolo County History: A Sense of Place - Session 1

with

 

Joann Larkey

Influenza and Other Viral Illnesses - Session 1 

with Dr. Christian Sandrock

Climate Change: Why The Earth is Getting Hotter - Session 2 

with Professor Brian Higgins

Written on Subway Walls Early Music of Simon and Garfunkel - Part 1 

with Larry Lobre

Van Gogh, Gauguin, Cezanne and Beyond 

with Candace Wray
For further details, contact our staff via email at OLLI@ucdavis.edu.
Tags