Extension of Free Special Interest Groups this Week
Free Special Interest Groups Continuing this Week
Due to the delay in launching our summer membership offer, OLLI is extending the current Zoom link for our weekday Special Interest Groups through July 10, 2020. See the weekly calendar for next week's topics.
All Special Interest Groups will take place from 1 – 2 p.m. All sessions use the same Zoom link.
Note: Starting July 13, 2020, Special Interest Groups will be open only to those with an OLLI Summer Membership.
More Courses Coming Your Way for Summer
Professor Kevin Elstob will begin a new session of his popular French Films course beginning on Wednesday, July 8, 2020! This four-session course is called French Films: The Importance of Perspective. View the full course description and enrollment details on the registration page. 
New summer courses are being scheduled and will be announced throughout the next two weeks. New courses coming this summer will include:
Systemic Racism

with Professor John Liu

The History, Myths and Rituals of India

with Gopal Kapur

Introduction to Guided Autobiography

with Lisa Smith Youngs

Pandemics and Geopolitics

with Steven Hoadley

Cinema Chez Rene

with Rene Viargues

Burning Man – a Photo Essay

with Laurie Friedman
OLLI Summer Membership Now Open Online
Here's some tips on how to register online for your OLLI Summer 2020 membership:
The design of our registration software requires that any prospective student register for a class before they can pay for their membership.

To register online, you will need to know your username and password. If you have this information, you can enroll online for the OLLI Special Interest Groups (free) and pay the $20 fee for your summer membership at the same time by visiting our website.
If you do not know your username or password, visit our OLLI Blog June 8 post to learn how to request a recovery link.

If you experience difficulty with enrolling online, call our Student Services team at (530) 757-8777 and leave a voicemail message to register, asking for a call back. Your message should include a phone number where you can be reached during weekdays and an email address. Steven or Nicole from Student Services will call you back. If you don't pick up the phone, Student Services will email you to request a call.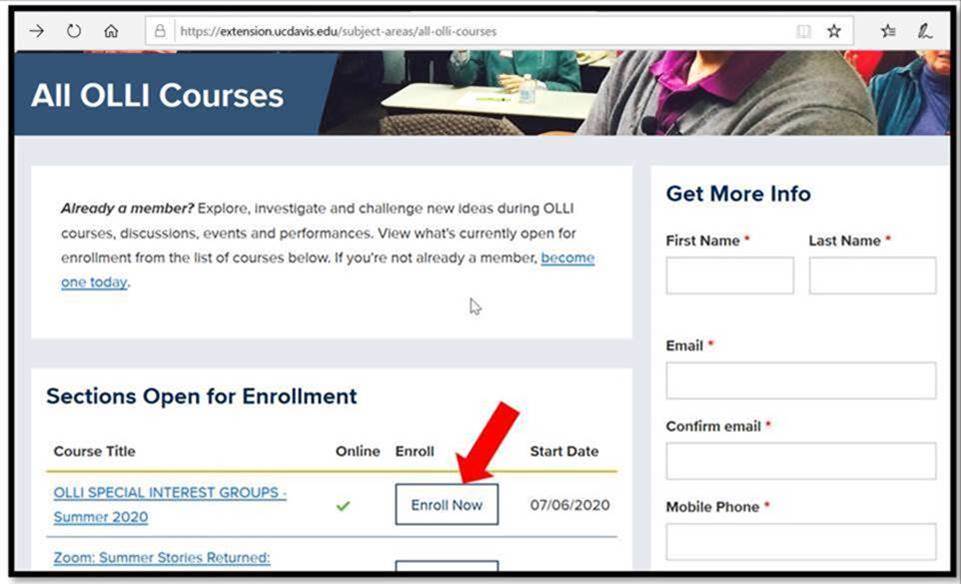 Tags